September 21, 2022 Accra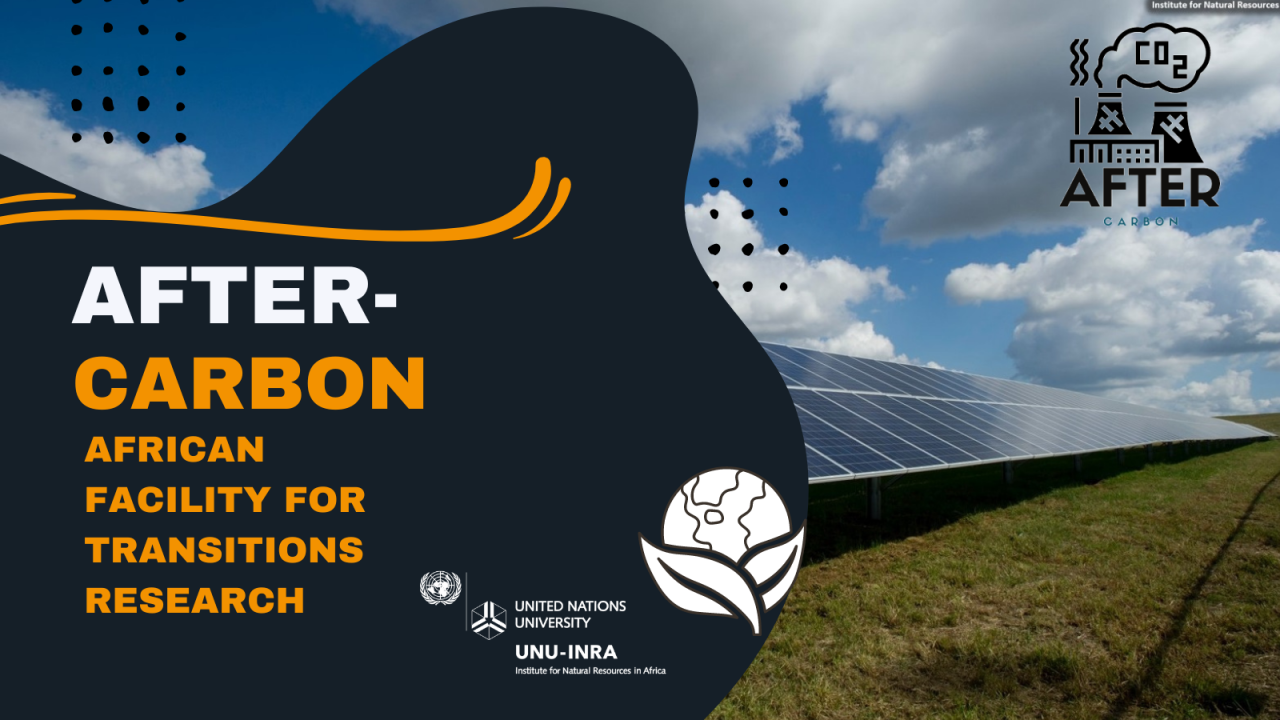 AFTER Carbon is a new UNU-INRA initiative. To avoid further catastrophic climate change effects and keep global warming below 1.5 degrees Celsius, energy systems must be deeply decarbonized. However, enabling low-carbon development and achieving net-zero economies is a difficult task, particularly for countries with a limited and depleted resource pool for just and green transitions. Decarbonizing Africa's energy systems has the potential to reverse gains in energy access and reduce government revenues, with serious implications for a variety of development outcomes. As a result, the transition presents a complex challenge that, if not managed carefully, will exacerbate existing developmental challenges and increase social and economic vulnerabilities. In Africa, insufficient capacity-building assistance has resulted in increased institutional, financial, and technical requirements. Since 1990, Africa has received only 4% of global climate research funding, with only 1% going directly to African institutions, in favor of international institutions. [1] This reflects a critical injustice that limits Africa's ability to build green transition capacity.
Given the current situation and the need to improve our preparedness for a world without fossil fuels, UNU-INRA has proposed establishing a post-carbon policy research hub that will bring together a consortium of scientists, civil-society groups, and public-sector officials in a research program that will respond to the most compelling priorities of the Global South, those with implications for the economy, society, and infrastructure.
The African Facility for Transitions Research (AFTER Carbon) aims to support long-term sustainability and low-carbon development in Africa. The proposal has the potential to create a knowledge dashboard on which policymakers and researchers can collaborate and plot net-zero trajectories. Fostering greater alignment between research needs and research producers in the global South will guide funding and enable value-for-money research. If we are to achieve net-zero energy, we must pool our resources to bring together technologies and expertise to shape capabilities locally.
On Friday, August 12, 2022, UNU-INRA hosted the first AFTER Carbon roundtable. The main goal was to talk about the initiative and how to make it easier to implement. Participants included representatives from UN-ECA, IIED, CCAG, the University of Cambridge, the University of Warwick, the University of Ghana, the Third World Network, and others. The initiative's first research project examines the economic implications of stranded assets in Africa. UNU-INRA is conducting a comprehensive economic analysis and projections ahead of COP27, which will allow governments to analyze and manage stranded asset risk, prevent future losses, and promote green transition planning.
An empirical study to collect primary data will focus on a number of critical nations, including the Democratic Republic of the Congo, Nigeria, Ghana, Tanzania, Uganda, Zambia, Namibia, Mozambique, and South Africa.
Resources: