December 4, 2020 Accra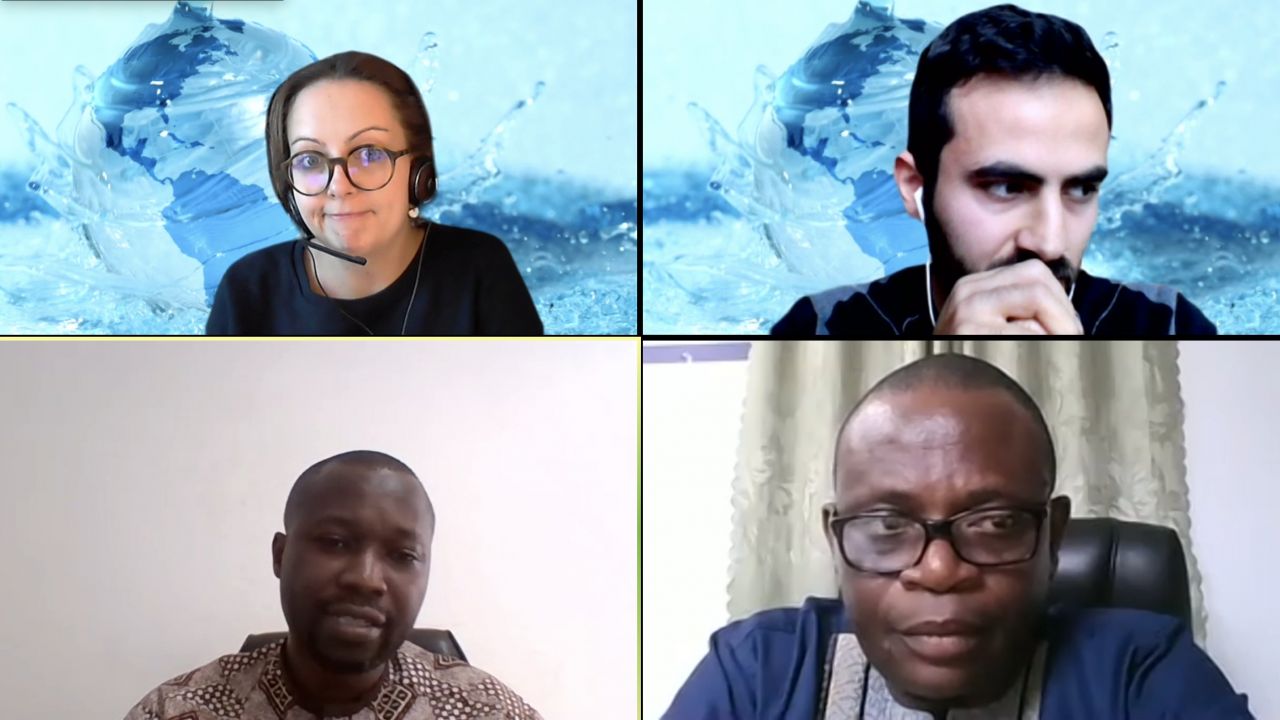 (Bottom left to right: Dr Gerald Forkuor and Dr Daniel Nukpezah in the Water Symposium)
UNU-INRA research fellow, Dr Gerald Forkuor, joins forces with Dr Daniel Nukpezah of the IESS, the University of Ghana to bring Ghana's commitment to the realization of human rights to water and sanitation (HRWS) to the International Water Colloquium. The colloquium is a collaboration between UNU-FLORES, Technische Universität Dresden and the University of Bonn to hold a series of lectures highlighting cooperations in water management required to tackle the global water challenge. Gerald and Daniel presented findings of their collaborative research in a webinar titled "Climate Change, WASH Service Provisioning and the Realisation of the Human Rights to Water and Sanitation."
The webinar highlighted the progress made and challenges Ghana faces in providing safely managed water and sanitation to its inhabitants. The presentation revealed that despite Ghana's international and national commitments to the provision of WASH, just about 44% of the population have access to safely managed water, with a significant disparity between urban (65%) and rural (18%) dwellers. They further noted that poor and vulnerable populations living in informal settlements did not adequately benefit from Government's COVID-19 response measure to absorb water bills and mobilize private tanker operators to supply safe and adequate water to such areas. On sanitation, the presentation revealed that only 21% of Ghana's population have access to safely managed sanitation facilities, with an increasing rate of open defecation.
In addition to discussing Ghana's water and sanitation situation, the researchers presented a case study where they assessed the climate resilience of WASH infrastructure in basic schools in the Keta Municipality of Ghana. Prone to climate hazards and vulnerable to rising sea levels, Gerald and Daniel investigated the impact of climate change on WASH services by interacting with students and teachers on the state of WASH service provision. A flood resilience perception index was additionally developed to gain the perception of users to the climate resilience of WASH facilities. They found that sanitation facilities in the survey schools were prone to flooding. In the event of flooding,  "28 per cent of students would go home to use the toilet, while 50 per cent would prefer defecation in the bush", noted Dr Nukpezah.
In terms of improving WASH service provision, 83 per cent of students mentioned the need to provide adequate soap and cleaning facilities, while 68% indicated the need to furnish dressing rooms with sanitary pads and tissues for improved menstrual health. To facilitate the realization of the HRWS, the researchers suggested increasing the awareness of vulnerable and marginalized population to their rights to water and sanitation, invest in climate innovation and technology and increase the financial capacity of young entrepreneurs, governments and other stakeholders through innovative and sustainable financing.
Written by Aseye Banini