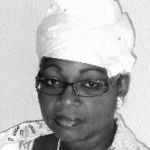 INSTITUTE:

UNU-INRA

OFFICE:

Centre Ivoirien de Recherches Economiques et Sociales (CIRES), Côte d'Ivoire

E-MAIL:

namizatab@yahoo.fr

NATIONALITY:

Côte-d'Ivoire
Research Interests
Economics of Rural Development
Environment and Microfinance
Gender Research
Natural Resources Management
Education
PhD, Economics (Efficacy of Microfinance), Wageningen University, Netherlands
Doctorate Degree in Rural Economics on Women and Rice Intensification in Côte d'Ivoire; Félix Houphoüt Boigny (FHB) University, Côte d'Ivoire
Master's Degree in Economics, Félix Houphoüt Boigny (FHB) University, Côte d'Ivoire
Biographical Statement
Dr BINATE FOFANA Namizata is the Coordinator of UNU-INRA's operating unit in Côte d'Ivoire. She is a Lecturer at the Faculty of Economic Sciences and Management, of the Félix Houphoüt Boigny (FHB) University, Côte d'Ivoire. She is a Researcher and formally the Deputy Director of the Ivorian Economic and Social Research Centre (CIRES).
In 2004, she was awarded a scholarship through the joint programme between the African Women Leaders in Agriculture and Environment's (AWLAE) research project on gender change, food security and HIV/AIDS, Winrock International and Wageningen University and Research Centre, where she obtained her PhD. In 2005, she obtained Post-Doctoral Diploma in Feminist Development Economics in the Institute of Social Sciences (ISS) in The Hague.
Dr BINATE was also awarded a grant from Gender Institute of CODESRIA (Council for the Development of Social Research Science in Africa) in Dakar, Senegal, for a research project that analysed the efficiency of women producers of Attiéké in Dabou, in the Southern Region of Côte d'Ivoire. She has also received a research grant from ARPAN (Rural African Policy Analysis Network) that assessed the technical efficiency of women rain–fed rice producers in Western Côte d'Ivoire, and a grant for research projects of SADAOC network (Sustainable Food Security in Central West Africa).
Dr BINATE has published several articles in the areas of gender and food security, and rural development in international journals. She also carried out several consultancy projects for reputable organisations including the Ivorian Government, United Nations Capital Development Fund (UNCDF), United Nations Food and Agriculture Organization (FAO), GIZ, African Capacity Building Foundation (ACBF), European Union (EU), and OIKOCREDIT, in areas of economic, agriculture, natural resources management and gender.