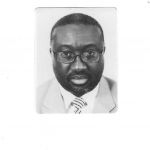 INSTITUTE:

UNU-INRA

OFFICE:

Mineral Resources Unit, School of Mines of the University of Zambia, Lusaka, Zambia

E-MAIL:

jewette_masinja@yahoo.com

NATIONALITY:

Zambia
Research Interests
Environmental Resource Management
Education
PhD, Minerals Engineering, University of Queensland, Australia
Appointments
Zambia Consolidated Copper Mining Company
Zambian Government (Ministry of Mines)
Tobacco Association of Zambia
University of Zambia
Biographical Statement
Dr Jewette Masinja holds PhD in Minerals Engineering from the University of Queensland in Australia (1994). He worked for the Zambia Consolidated Copper Mining company (ZCCM) from 1984 to 1998, as a Metallurgist and by the time he left in 1998 he was holding the position of Head of Group, Environmental Services. In this capacity, he supervised the first ever formal environmental impact assessment of the mining industry in Zambia, undertaken in 1997 in advance of the privatization of ZCCM.   During this time (1996-1967), he was also contracted by the Zambian Government (Ministry of Mines), through the World Bank, to write the current subsisting "Mines and Minerals (Environmental) Regulations under the Mines and Minerals Act of 1995. He then worked as a Permanent Secretary in the Government of the Republic of Zambia for four years. One of the portfolios held during that time was Permanent Secretary of the Ministry of Environment and Natural Resources.
Jewette was also the Chief Executive Officer of the Tobacco Association of Zambia for about two and a half years, following which he became a private consultant to the mining industry in environmental management. During this time, he undertook a number of environmental impact assessments and environmental audits. He later joined the University of Zambia in 2008 as a lecturer in the Department of Metallurgy and Mineral Processing of the School of Mines, where till date, he teaches undergraduate students Metallurgy and the Environment amongst other subjects, and lectures postgraduate students Small Scale Mining and the Environment, and Sustainability in Mining, a course jointly developed with colleagues in the United Nations University in Tokyo, and the University of Cape Town, Department of Chemical Engineering. He supervises postgraduate students and is also an external examiner at both masters and PhD thesis levels.
He has an interest in environmental management in general, and in the mining industry particular, areas he has consulted widely both within Zambia and abroad and also published several publications.