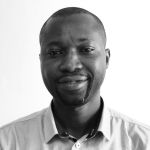 INSTITUTE:

UNU-INRA

OFFICE:

UNU Institute for Natural Resources in Africa, International House, Annie Jiage Road, University of Ghana, Legon Campus, Accra, Ghana

E-MAIL:

forkuor@unu.edu

NATIONALITY:

Ghana
Research Interests
Climate Change
Disaster risk management
Geographic information science and remote sensing
Land management and food security
Water resource management
Education
University of Wuerzburg, Germany
University of Twente, Netherlands
University College London, UK
Kwame Nkrumah University of Science and Technology, Ghana
Appointments
West African Science Service Centre on Climate Change and Adapted Land Use
International Water Management Institute
Biographical Statement
Dr Gerald Forkuor is a Research Fellow (water and land) at the United Nations University Institute for Natural Resources in Africa (UNU-INRA). He holds academic degrees in Geomatic Engineering, Geographic Information Science, Water Resources and Environmental Management and Natural Sciences from reputable educational institutions in Ghana, the United Kingdom, the Netherlands, and Germany.
Gerald previously worked for WASCAL as a research scientist and Head of the Earth Observation Applications Unit from 2015 to 2019. From 2004 to 2011, he worked for IWMI as a Research Officer. His research interests include climate change, water resource management, land management and food security, disaster risk management, Geographic Information Science and Remote Sensing. Some of his previous research projects focused on: assessing the impact of climate change on water resources in the Volta basin; assessing and mapping groundwater potential for irrigated agriculture in northern Ghana; analyzing the impact of land use and land cover change on urban agricultural systems in major cities in Ghana and Sierra Leone and disaster risk reduction practice research and capacity building for ECOWAS states.
Apart from research, he is actively involved in capacity development, especially in the use of open access earth observation data and software for addressing environmental change problems. Gerald has authored and co-authored more than thirty publications including journal articles, book chapters and conference papers and reviews for over fifteen international peer-reviewed journals in diverse fields.