DATE / TIME:

July 10, 2020 12:00 - 13:30

Location:

Accra
RESOURCES
Minister Shinjiro Koizumi – SPECIAL MESSAGE on Japan's new policy for assisting decarbonisation in developing countries.
Dr. Fatima Denton's presentation slides
Full webinar video – facebook live
---
UNU-INRA will host a side-event at the 2020 UN High-Level Political Forum on Sustainable Development (HLPF) that will focus on "Managing "stranded" assets risks and opportunities – moving towards decarbonised economies and inclusive growth in Africa".
The event will discuss the risks associated with transitioning away from fossil fuels, and the opportunities for diversification and sustainable development in Africa, drawing on strategies from Northern countries, such as Japan, and ways in which just recovery can be achieved through multilateralism.
This side event is jointly organised by UNU Institute for Natural Resources in Africa(UNU-INRA), UNU Institute for the Advanced Study of Sustainability (UNU-IAS), UNU Institute for Environment and Human Security (UNU-EHS), UN Economic Commission for Africa, and UN Department for Economic and Social Affairs (DESA).
Register for the event in advance to get access to the Zoom webinar.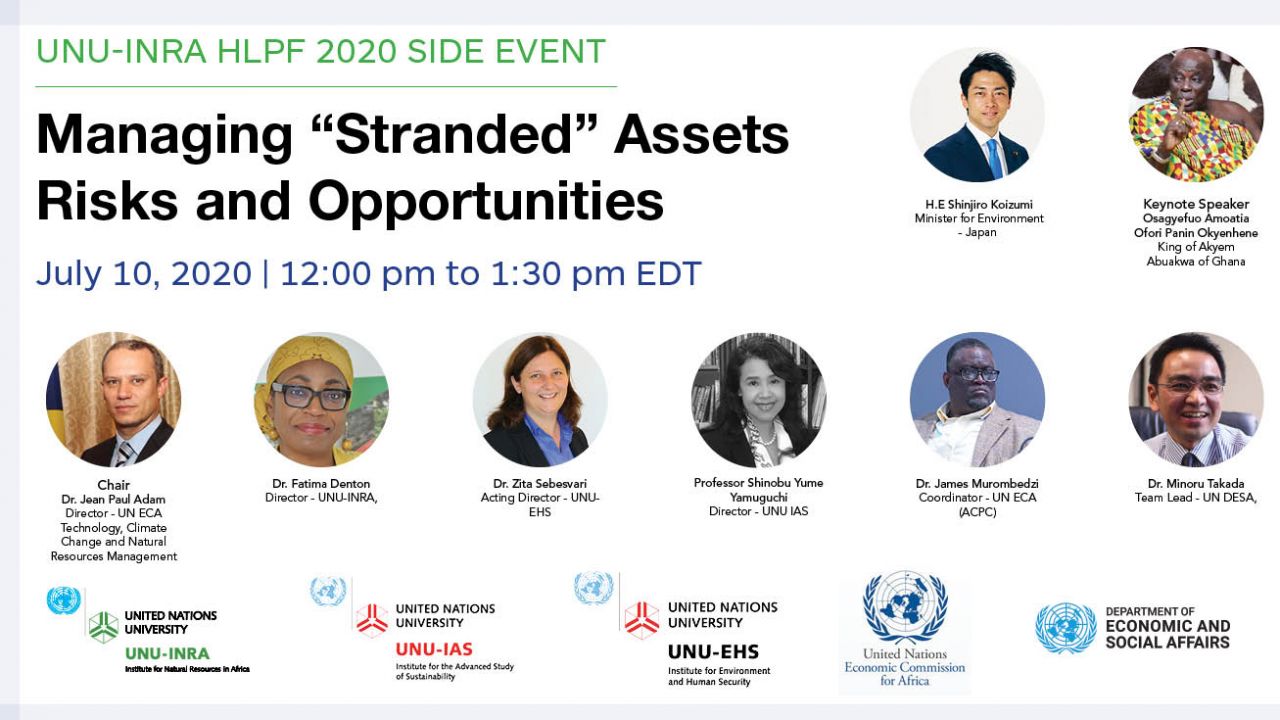 Africa remains poor, with 600 million people living without access to electricity. Efforts to accelerate climate action have intensified in order to reduce global warming to below a 2 degree rise. However many African countries depend on hydrocarbon assets for development that are at risk of becoming stranded.
Additionally, the impacts of the COVID-19 pandemic threaten to derail green transitions as economies focus their attention towards economic recovery.
As pathways towards decarbonisation are formulated, the risks associated with exiting from fossil fuels must be addressed. Enabling the transition would require a managed exit that acknowledges the challenges of switching to cleaner technologies in the near future given limited resources and capacities.
HLPF 2020 focusses on "Accelerated action and transformative pathways: realising the decade of action and delivery for sustainable development ".
Find out more about stranded assets in UNU-INRA's report on African Development in the Age of Stranded Assets.
---
Chair
Dr. Jean Paul Adam – UN ECA, Director Technology, Climate Change and Natural Resources Management
Speakers:
Osagyefuo Amoatia Ofori Panin Okyenhene – King of Akyem Abuakwa of Ghana
His Excellency Mr. Shinjiro Koizumi – Minister for Environment, Japan
Dr. Fatima Denton – UNU-INRA, Director
Dr. Zita Sebesvari – UNU-EHS, Acting Director
Professor Shinobu Yume Yamuguchi – UNU IAS, Director Dr. James Murombedzi – UN ECA (ACPC), Coordinator
Dr. Minoru Takada – UN DESA, Team Lead
Dr. James Murombedzi – United Nations Economic Commission for Africa (ECA) ACPC, Chief
---
Please find more information on the event here:
Press release.
Japan Minister for Environment's Opening Address.
Dr. Fatima Denton's Presentation.
---
UNU-INRA media contact:
Qondi Moyo – moyo@unu.edu; +233558211567