DATE / TIME:

July 28, 2021 14:00 - 15:30

Location:

Accra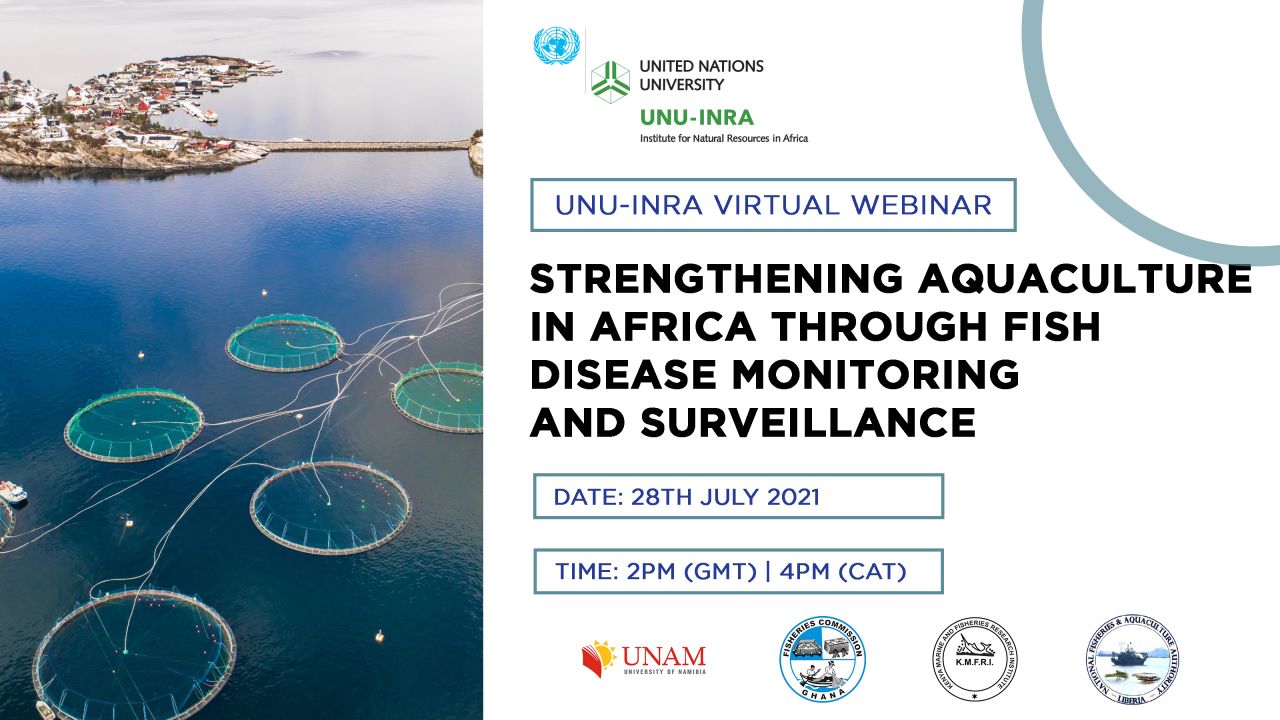 Africa is endowed with vast ocean resources that has been touted as having the potential to contribute to the continent's sustainable development. But the livelihood support and economic benefits derivable from this endowment are at risk due to increasing population pressure, pollution, illegal fishing and destructive exploitation approaches. Aquaculture (freshwater and marine) is a promising way to reduce the overexploitation of marine resources while supplying essential protein and employment to Africa's rising population. Aquaculture contributed 47% of the global fish production in 2016 and is projected to continue driving global growth in the supply of fish in the coming years.
The aquaculture sector, however, faces several challenges including its vulnerability to diseases. The outbreaks of established and emerging diseases present a threat to the survival and sustainability of aquaculture, with infectious diseases continually threatening industry growth. Containing the threats of these diseases is crucial for the region, especially as trade increases and transboundary movement of goods (including fish) also increases. In this regard, it is important to invest and increase knowledge on fish diseases monitoring and surveillance in aquaculture to facilitate the realization of food security in Africa. Investment in the development of thorough and consistent epidemiological data is critical to prioritize, identify and describe pathogens for different fish species under culture.
In collaboration with the Sam Nujoma Marine and Coastal Resources Research Centre (SANUMARC), which doubles as UNU-INRA's Operating Unit in Namibia, UNU-INRA wishes to invite you to the second of its webinar series on "development of the blue economy and sustainable aquaculture in Africa" on 28th July 2021 at 2 PM (GMT).   
In this webinar, aquaculture and fisheries experts from four African countries – Mr Martin Tjipute of the Department of Fisheries and Aquatic Sciences at SANUMARC,  Ms Venny Mziri Mwainge of the Kenya Marine and Fisheries Research Institute, Mr Zizi Kpadeh of the National Fisheries and Aquaculture Authority, Liberia and Dr Ewurabena Ntiamoah Bediako of the Fisheries Commission, Ghana – will share their experience of fish disease surveillance at national level using their respective countries as case studies. The webinar will aim at providing participants with an insight into disease surveillance and monitoring as a fisheries and aquaculture management tool. It will highlight the importance of national surveillance program and propose measures for the development of a comprehensive fish disease surveillance program at varying levels. 
Location: Zoom Webinar
Please register here to receive the Zoom link