DATE / TIME:

February 27, 2020 14:00 - 16:00

Location:

Accra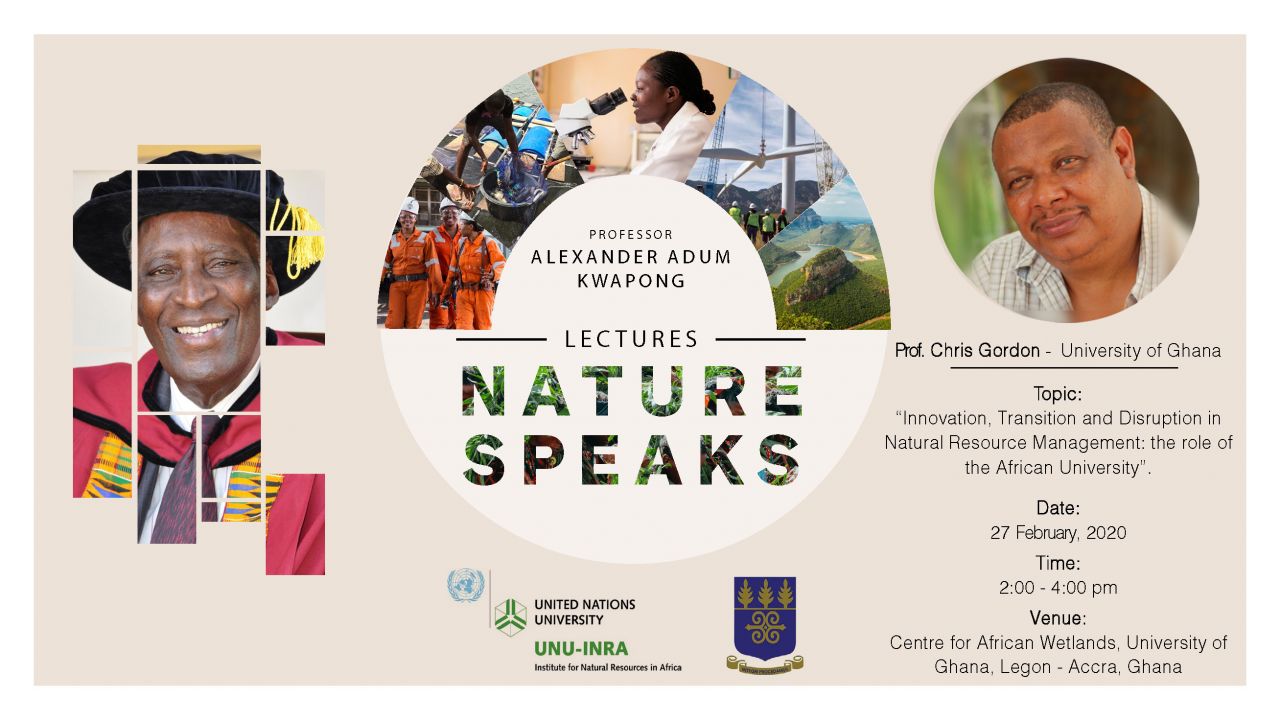 The first Alexander Kwapong lecture of 2020 is set to take place on Thursday, 27th February from 2pm to 4pm at the Centre for African Wetlands of the University of Ghana, Legon.
The public lecture will feature the teachings of former director of the Institute of Environment and Sanitation Studies (IESS) at the University of Ghana, Professor Chris Gordon, on the topic "Innovation, Transition and Disruption in Natural Resource Management: The role of the African University."
Professor Chris Gordon has 35 years of experience in teaching, researching and outreach in topics such as Costal Resource Management, Limnology and Environmental Science among others. His current interests are in making the connection between Academia and policy-making and finding a way to achieve the SDGs.
RSVP: Register your attendance here!
Read more here:
Alexander Kwapong Lecture Feb2020 Press Release
Kwapong Lecture Blurb_Feb 2020
La première conférence d'Alexander Kwapong de 2020 est prévue pour le jeudi 27 février de 14h à 16h au Centre for African Wetlands de l'Université du Ghana, Legon.
À la première conférence publique, le professeur Chris Gordon, ancien directeur de l'Institut des études sur l'environnement et l'assainissement (IESS) de l'Université du Ghana, traitera le thème "Innovation, transition et perturbation dans la gestion des ressources naturelles : Le rôle de l'université africaine".
Le professeur Chris Gordon possède 35 ans d'expérience professionnelle dans l'enseignement, la recherche et la vulgarisation dans des domaines tels que la gestion des ressources côtières, la limnologie et les sciences de l'environnement, entre autres. Ses travaux de recherches actuels sont axés sur etablir le lien entre le monde universitaire et l'élaboration des politiques et trouver un moyen de réaliser les ODD.
Pour en savoir plus, cliquez ici :
Communiqué de presse de la conférence d'Alexander Kwapong Fév2020
Conférence à l'honneur de Kwapong Blurb_février 2020
Bio de Chris Gordon, février 2020