DATE / TIME:

February 16, 2023 09:00 - February 17, 2023 14:00

Location:

Accra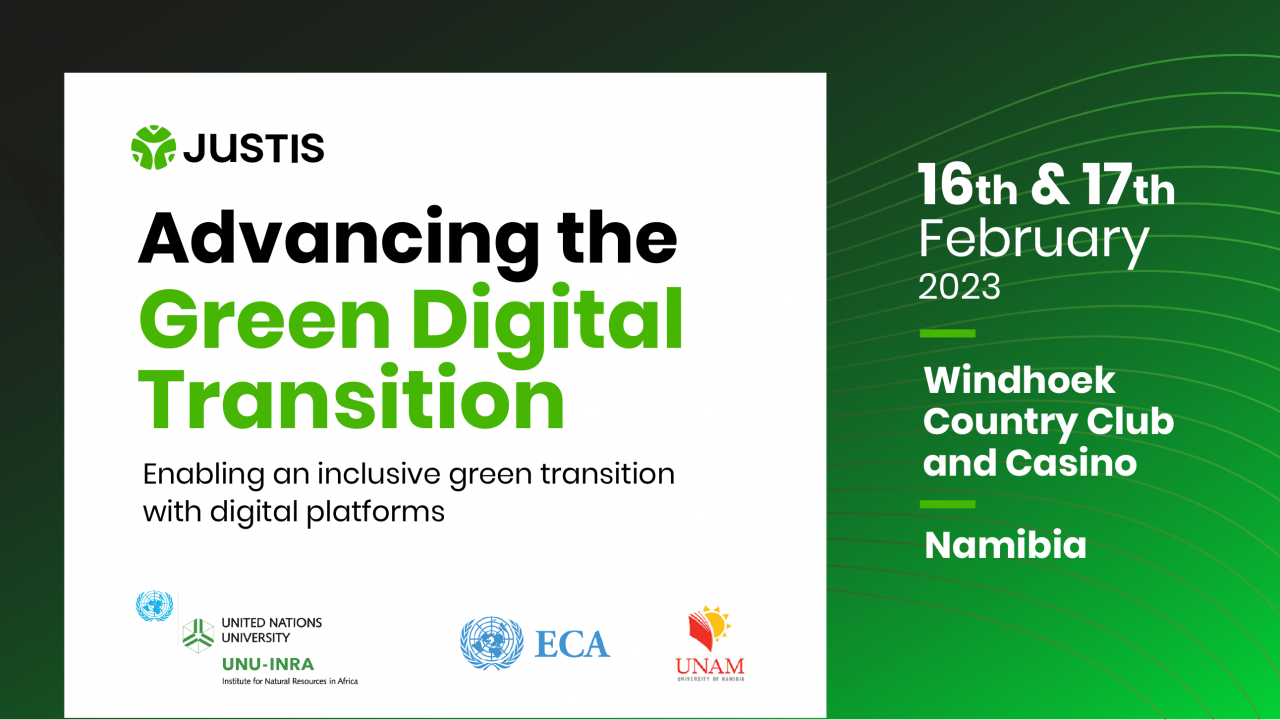 The urgency to mitigate the catastrophic impacts of climate change necessitates a rapid transition from fossil-based energy systems to clean, low to zero-carbon energy sources. Without specific efforts to ensure an equitable transition, existing injustices in the current energy systems will be exacerbated, resulting in winners and losers.
The JUSTIS digital portal seeks to bridge the gap between green entrepreneurs, policymakers, and investors to accelerate green growth and green transitions. 
 
The platform creates an avenue to engage and connect green entrepreneurs across Africa with a support infrastructure, enabling businesses to thrive, grow, and effectively contribute to green transition efforts.
UNU-INRA will host a policy roundtable and workshop on Thursday, 16th February 2023 and Friday, 17th February 2023, in collaboration with the UNU-INRA Operating Unit held at the Sam Nujoma Marine and Coastal Resources Research Centre of the University of Namibia.
The aim of the workshop is to bring stakeholders together to discuss how to include entrepreneurs in the transition and the role of policymakers and other stakeholders. Entrepreneurs will be onboarded onto the Justis digital platform where they can begin using the online marketplace.
View briefing note for more information:
Draft Programme
Time
Agenda
Responsible
9:00-9:30 am
Arrival of participants and registration
Chief Moderator: Dr. Samuel Mafwila
9:30 – 9:45 am
Opening Remarks
Dr. Fatima Denton, UNU-INRA Director

Dr. Hilda Mwakatumbula, UNECA

9:45 – 10:15am
JUSTIS Project and General Key Findings Across the four participating countries
Mrs. Thelma Arko, Research Fellow/ Project Coordinator, UNU-INRA
10:15 – 10:45am
JUSTIS Key Findings in Namibia
Dr. Abner Shopati, NBS, UNAM & Ms Lilongeni Kayofa, Ministry of Mines and Energy, Namibia.
10:45 – 11:10am
Q & A
Moderator:

Dr. Samuel Mafwila

11:10 – 11:30am
Snack break

11:30 am –

12:10pm

Pannel Discussion: How can Just Energy Transition be attained in Namibia

Moderator:

Dr. Samuel Mafwila, SANUMARC, Sam Nujoma Campus, UNAM/ Coordinator: UNU-INRA Operating Unit, Namibia

Panelists:

Dr. Abner Shopati

Namibia Business School (NBS), UNAM

Dr. Zivayi Chiguvare

Director: Namibia Hreen Hydrogen Institute, UNAM

Mr. James Mnyupe  Economic Advisor and Green Hydrogen Commissioner. Office of the President. Republic of Namibia.
Time
Agenda
Responsible
Ms Helvi Ileka

Acting Director

Centre for Renewable Energy, Energy Efficiency (CREE),

Namibia University of Science Technology

Dr. Natangue Shafudah Namibia Green Hydrogen Institute, UNAM

12:10 – 12:30 am
Q&A
12:30 – 1:00pm
Way forward
Dr. Fatima Denton Marion/Simon
1:00 – 2:00pm
Lunch
2:00 – 2:30pm
Introduction to the JUSTIS portal & signing-up

Q&A

Mrs. Thelma Arko
20:30 – 2:50pm
What Next for JUSTIS
UNU-INRA/UNECA
20:50 – 300pm
Closing Remarks
UNU-INRA/UNECA