April 28, 2015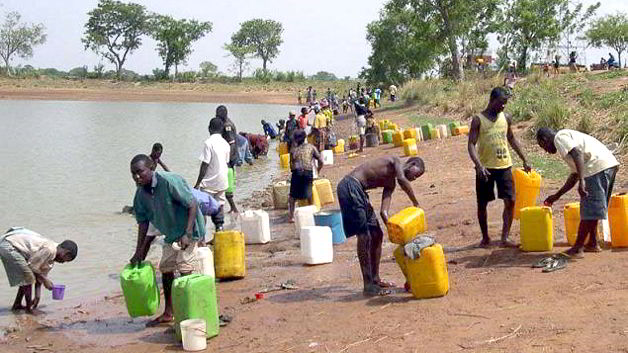 Rural dwellers fetching water from a local lake in Northern Ghana. Photo: Izumi Kikkawa
Every year the United Nations highlights essential topics with specially designated World Days. The recent World Water Day is one that garnered attention globally and the 2015 theme was chosen to underscore how water links to all other dimensions that are critical to creating a future in which the needs of both people and the planet are met. This year's focus on "Water and Sustainable Development" emphasized the importance of water to human health, environment, industries, energy, food and equality.
Water is critical to the health of every nation and its socioeconomic development and undoubtedly, addressing water-related issues cannot be done entirely in one day. When clean water is unavailable and sanitation is poor, countries suffer a high incidence of diseases like cholera. Nonetheless, for a continent like Africa, World Water Day provided an opportunity to re-examine the challenging work required to halt the pollution of water resources across the continent. The fact is that despite progress on access to safe water in some African countries, two serious problems continue to impact negatively on the continent's water resources: the warming climate and human activities — including population growth, urbanisation, industrial activities, poor farming practices and, more especially, poor waste management practices.
Some Statistics
Though Africa is endowed with 63 spectacular trans-boundary river basins that cover 64 percent of the continent's landmass, around 40% of sub-Saharan Africa's 783 million people have no access to an improved source of drinking water. The region also has the lowest household daily water use per capita in the world; a consumption rate far below the UN minimum personal and domestic consumption level of 50 litres per day.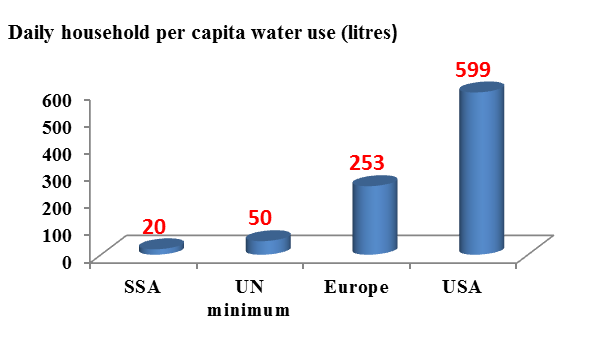 Source: World Water Council
What is even more alarming is that a recent UN water report revealed that the percentage of people in sub-Saharan Africa who enjoy piped water on their premises has actually decreased from 42% to 34% — a clear indication that access to safe drinking water sources is also declining.
However, the need to boost water accessibility is only part of the challenge, for even when water is available, it is at risk of being contaminated by pollution and poor sanitation practices. Infrastructure to channel water from fresh and clean water sources for use in arid areas remains too costly for many communities. As freshwater sources become polluted, communities end up using untreated water in their homes and for other purposes such as irrigation — a situation that poses serious health concerns.
Further, women and young girls — usually the ones to search for the water needed to meet families' daily needs — spend hours of their day walking miles to the water source and carrying filled containers back home. This prevents them from engaging in other income-generating activities or attending school regularly. This unfortunate situation, coupled with the health implications of using polluted water sources to meet basic domestic needs, provides ample reason to call for a revolution against water pollution in the continent.
Some Experts Solutions
Expressing his thoughts on how to address the water pollution issue across the African continent, Dr Elias Ayuk, Director of the United Nations University Institute for Natural Resources in Africa (UNU-INRA), noted that considerable investment is required to increase access to clean water and to improve sanitation and waste management in much of the developing world including Africa.
"There is the need to give more priority to water resource management in most sub-Saharan African countries. It is estimated that only about 3% of Africa's renewable water resources have been tapped. Opportunities therefore exist for tapping and harvesting more water for irrigation, domestic and industrial use, if the appropriate investments and regulatory frameworks are put in place," explained Dr Ayuk.
The UNU-INRA Director further explained that, in as much as investment in water infrastructure to improve supply is important, it has become very imperative to focus more attention on how water and Earth's natural environment are used and managed. He added that investing in the protection of water-related ecosystems, particularly through education, and showing greater commitment to implementing policies aimed at preserving the environment on which water depends could help promote development in many African countries.
Another approach that would have a huge impact is to boost innovative science and technology research, believes Dr Effiom Oku, Land and Water Resources Research Fellow at UNU-INRA. He observed that "science and technology are the obvious means of changing the trajectories for harnessing Africa's water resources so as to create wealth, produce enough food and reduce poverty". Dr Oku indicated that there are a couple of areas that will be key in addressing the continent's water challenges. One of these, he said, is to explore cost-effective technologies such as the use of vetiver grass to treat wastewater for reuse. He further noted that available evidence suggests that investing in more advanced technologies such as reverse osmosis for desalination would be very beneficial to many communities in dry areas, mainly because of its low operational cost, especially with regard to energy.
There is no doubt that water resource management must be prioritised to drive sustainable development. Behavioural change on the part of Africa's citizens and industries will also be key to halting water pollution. This will require that citizens resist dumping waste and excreta into drainage areas and water resources. More importantly, there is a need for increased awareness that could be generated through educational campaigns by advocacy groups (such as civil society organisations) on the impact of water pollution on health and the environment.
Mining firms and other organisations, whose activities affect water bodies and the environment in general, should also take pragmatic measures by prioritizing water pollution in their organisational strategies and using the best technologies to mitigate the impact of their operations on ecosystems and people.
Indeed, promotion of proper sanitation practices, enforcement and monitoring of environmental standards at mining sites, together with best environmental practices from industry in general could go a long way to finding lasting solutions to clean water and water accessibility challenges across the African continent.