November 12, 2015 Cameroon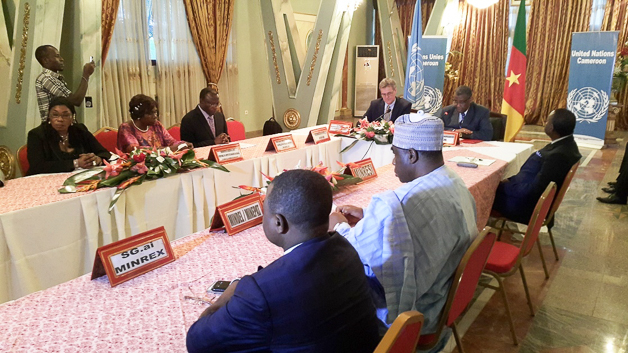 The United Nations University Institute for Natural Resources in Africa (UNU-INRA) signed an Agreement of Cooperation with the Government of Cameroon, for Cameroon's contribution to the UN University's endowment fund for UNU-INRA. Per the terms of the agreement, the Government of Cameroon shall undertake to pay its contribution into the "Endowment Fund", worth two million US Dollars ($2 million), that is one billion CFA Francs (1000 000 000 CFAF), per year, over a period of three (3) years.
The ceremony, which took place on Thursday 12th November, 2015 at the Ministry of External Relations, (MINREX) at Yaoundé, was chaired by the Minister Delegate in-charge of Islamic Affairs; H.E Adoum Gargoum, supported by Professor Jacques Fame Ndongo; Minister of Higher Education, H.E Yaouba Abdoulaye, Minister Delegate at Ministry of Economy, Planning and Regional Development (MINEPAT). The UN University was represented by Professor Jakob Rhyner; Vice Rector of the University, Dr. Elias T. Ayuk; Director of UNU-INRA and Prof. Fotso Pauline Laure, Coordinator, UNU-INRA Operating Unit in Cameroon.
In a thank you message, Prof. Rhyner appreciated the constant support of the Cameroon Government to the goals of the UN University. He emphasised the importance of the agreement to the growth of the UN University in Africa. Minister Gargoum, on his part, underscored the existing excellent cooperation between the Cameroon Government and the UN System, and gave a brief history of the relation between the Cameroon Government and UNU-INRA which started with the "protocol d'accord" of 31st December, 2002.
He stated that the agreement aimed at giving a new boost to the existing cooperation with UNU, especially the Institute for Natural Resources in Africa (UNU-INRA). He further reiterated the Government of Cameroon's commitment to providing the annual funding and urged UNU to continue to provide technical support for the Institute's Operating Unit in Cameroon.
The signing ceremony was witnessed by members of the diplomatic corps and key media in Cameroon.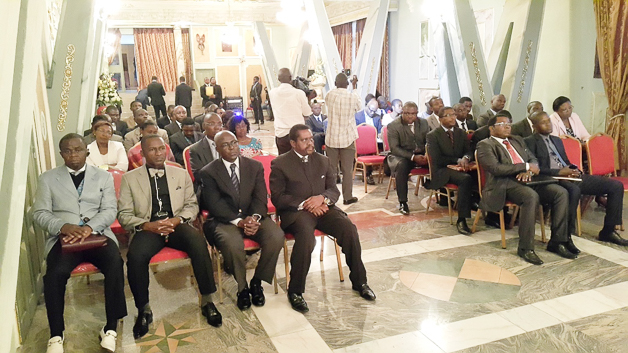 Members of the diplomatic corps witnessing the signing of the agreement