June 23, 2016 Accra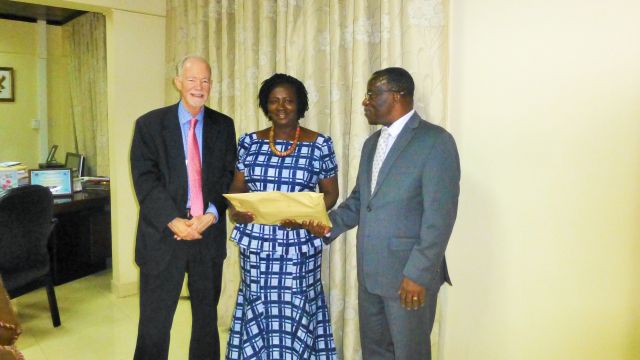 The Rector of the United Nations University, Dr. David M. Malone lauds Ghanaians for their zeal in education. The Rector made the remarks when he paid courtesy calls on the Minister of Lands and Natural Resources and Minister of Education in separate visits in Accra.
Dr. Malone noted that Ghana is gradually becoming a hub for education in the West African sub-region, indicating that the UN University continues to receive excellent Ghanaian students in its PhD and Masters programmes. He added that a Ghanaian scholar, Yaw Agyeman Boafo, has excelled in the UN University's first PhD programme in Sustainability Science. His great achievement, he said, propelled the University of Tokyo to award him a Postdoctoral Fellowship, after which he will be returning to Ghana to serve his nation.
On her part, the Minister of Education, Prof. Naana Opoku Agyemang, thanked the Rector for the compliment and indicated that  Government is working hard to improve the country's educational system to produce more excellent students. She said Ghana is working to develop a national agenda on the sustainable development goals (SDGs) and her ministry is keen on implementing the localized SDGs on education. The Education Minister, Prof. Opoku Agyemang, therefore urged UNU-INRA to collaborate more with Government agencies in Ghana on its projects.
Dr. Malone seized the opportunity to brief the Ministers on the activities of the United Nations University (UNU), more particularly on the programmes of the UN University Institute for Natural Resources in Africa (UNU-INRA). He stated that the institute, which is one of the fourteen institutes / training programmes of the UN University and currently the only one in Africa, focuses on promoting the sustainable management of Africa's natural resources through research, capacity development and policy advice. He emphasized the commitment of the UN University to working with Governments and partners, especially in the developing world to promote sustainable growth.
The UNU Rector used the visits to thank the Government of Ghana through the ministries on the country's contributions to the UN University's endowment fund for UNU-INRA. He indicated that Ghana is among four African countries that are currently contributing generously to the UNU-INRA endowment fund, which was established based on a resolution taken by the then Organization of African Unity (OAU) in 1986, for African Governments to provide funding support for UNU-INRA.
The Director of UNU-INRA, Dr. Elias T. Ayuk, presented recent natural resources management policy briefs and other publications of the Institute to the ministries visited.