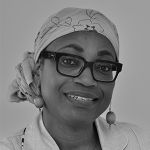 INSTITUTE:

UNU-INRA

OFFICE:

UNU Institute for Natural Resources in Africa, International House, Annie Jiage Road, University of Ghana, Legon Campus, Accra, Ghana

E-MAIL:

denton@unu.edu
Biographical Statement
Dr. Fatima Denton is the Director of the United Nations University Institute for Natural Resources in Africa (UNU-INRA). She is an accomplished senior leader in the UN system, respected across the research and implementation branches of the organization. She has depth of expertise in natural resource management, as well as deep knowledge of research and policy development, and the African region.
Prior to joining UNU-INRA, Dr. Denton had worked with the United Nations Economic Commission for Africa (UNECA) in Ethiopia since 2012. Her roles included Director of the Natural Resource Management Division and Coordinator of the African Climate Policy Centre.
Before that Dr Denton was a Programme Leader with the Canada-based International Development Research Centre (IDRC), where she managed high-impact action research, including a major climate change adaptation research programme involving over 100 action research initiatives encompassing 40-plus projects across 33 countries in Africa. She also worked as an energy scientist with the United Nations Environment Programme Risoe Centre (Denmark) and as an energy programme manager with Enda Tiers Monde (Senegal).
Dr Denton is a lead author for the IPCC special report on climate change and land, a lead author for the Intergovernmental Panel on Climate Change (IPCC) Sixth Assessment Report (Working Group III), and was a Lead Author for the Fourth and Fifth Assessment Reports (Working Group II) and for the IPCC Special Report on Renewable Energy and Climate Change Mitigation. She has served on numerous scientific committees and boards, including the Independent Scientific Committee of the CIGIAR Climate Change and Food Security Programme, and is a current member of the advisory board of Future Earth and a trustee of UK-based International Institute on Environment and Development (IIED).
Dr Denton has written more than 50 peer-reviewed articles, reports, and books. She holds a PhD in Political Science from the University of Birmingham (UK).