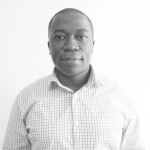 INSTITUTE:

UNU-INRA

OFFICE:

United Nations University Institute for Natural Resources in Africa (UNU-INRA)

E-MAIL:

twum@unu.edu

NATIONALITY:

Ghana
Research Interests
Climate change adaptation and mitigation
Climate finance
Climate-Smart Agriculture
Environmental policy
Food Security
Green Economy
Policy development
Policy implementation
Renewable energy
Resources management
Sustainable development
Education
PhD, Politics, University of Exeter, United Kingdom
CEnv Institute of Environmental Management and Assessment, United Kingdom
MSc, Environmental Resources Management, Branderburg University of Technology, Germany
BSc, Natural Resource Management, Kwame Nkrumah University of Science and Technology, Ghana
Appointments
Institute of Green Growth Solutions, Accra-Ghana
Ministry of Food and Agriculture, Accra-Ghana
Central University, Accra-Ghana
University of Exeter, United Kingdom
Environmental Protection Agency, Ghana
Biographical Statement
Dr. Eric Twum is a Chartered Environmentalist with over 15 years' experience in resources management, public policy, climate change adaptation and mitigation, politics, and project management.  He studied in Ghana, Germany and the United Kingdom and was a Lecturer and Academic Researcher.  His outstanding experience and skills have been successfully applied in policy development and implementation.
His experience includes working as a Researcher at University of Exeter, United Kingdom, Lecturer at Central University, Ghana, Climate Change Adaptation and Mitigation Consultant of the Ministry of Food and Agriculture, Ghana, and the Chief Executive Officer of the Institute of Green Growth Solution (IGGS). He has led a number of projects and consultancies on Environment, Energy and Climate Change. He has been instrumental in the development of Ghana's Nationally Appropriate Mitigation Actions (NAMAs), and Ghana's Green Climate Fund Operational Manual. He has also led a team of consultants in developing a National Monitoring, Reporting and Verification (MRV) system to track Climate Actions and Climate Finance in Ghana whilst engaging with policy makers in key policy areas in energy, natural resources management, climate change and environment.
Dr. Eric Twum has published in peer reviewed journals on Environment, Climate Change and Environmental Financial Assurance.